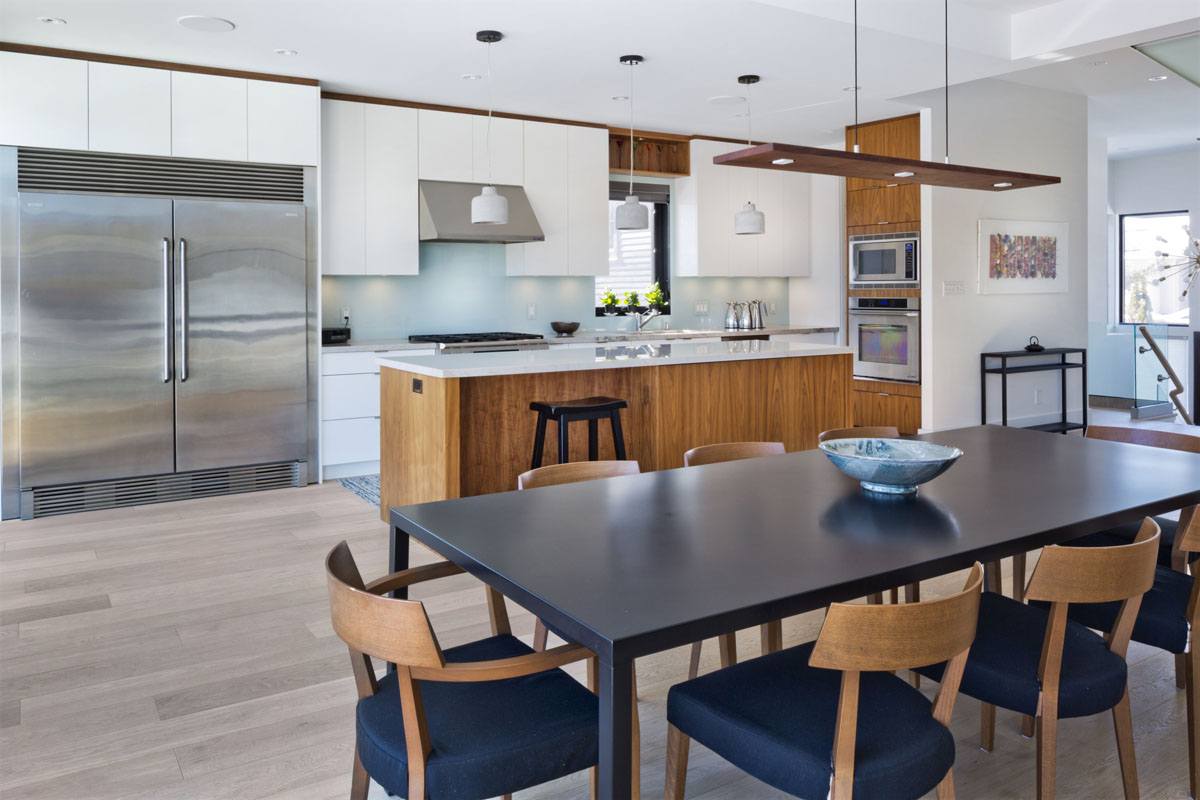 The open-concept room was born from minimalist trends in modern homes. Over time, doing less meant having less walls between rooms. The challenge with this design concept though is how to still maintain zones of different purposes in one open room.
It doesn't matter that there aren't any physical walls. What matters is how you use creativity to create virtual walls.
Floor
Let's start from the ground up. Laying down different flooring materials is one of the best ways to separate living spaces. That way, you can outline each one to the exact size and shape you want.
For a kitchen-living-room space, you can install durable material like natural stone or ceramic tile for the kitchen. Then move on to softer materials for the living room. You can divide the living room up even more with different flooring.
Don't forget that you can also play with levels by way of raised platforms or sunken areas. Area rugs are another idea that's at once cozy and stylish.
Ceiling
Now let's turn our gazes upward. Custom ceiling features can help set spaces apart. You can get that from subtle crown mouldings and bulkheads to fancy waffle or dropped ceilings. Take your cues first from existing architectural features like ceiling beams. You can decide afterward if you want to add something decorative. For a flusher look, paint a ceiling pattern directly overhead the space you want to define.
Furniture placement
Furniture is the next big piece of the puzzle. You can outline a space as much as you want, but how you fill it is what solidifies it as a functional space. Something as simple as arranging furniture to face inwards on various sides of an area is enough to form a virtual enclosure.
The beauty of a wide, open room is that it gives you the luxury to leave uncluttered spaces between different areas so they can breathe more. If space is limited, place each furniture group at odd angles to one another. You can also try putting up discreet walls with furniture pieces like bookshelves or accent tables. For natural look, use plants as green dividers. You may find in some spaces that more opaque dividers like fold-out screens or curtains work better.
Lighting
If you've been to a live concert or theatre show, then you know what a big difference lights make in transforming a space. Lights in these shows set the ambience of the stage, but they also define the various performance areas. You can do the same thing with your own space.
Make use of pendant lights to illuminate each individual area. Remember to also be selective in the style of each pendant light set. Their look can further differentiate the spaces from one another.
Colour
Colour schemes do wonders in identifying each space. If you have a neutral colour for the surrounding walls, it's much easier to use bursts of colour to set off different living spaces. For a bolder and more adventurous look, go against the grain with a non-neutral wall colour for the whole open-concept room. Then separate living spaces with different complementary colours.
You can add colour through choices in furniture upholstery, throw pillows, area rugs, ornaments or light fixtures.
Textures
If bursts of colour are not your thing, use different textures or finishes as the anchors for a space. Perhaps one area has wood accents while another has metallic finishes. Similar to colour, you can experiment with textures through the item choices you make for that area.
With the myth of inseparable living spaces debunked, there's nothing to stop you embracing the open-concept room. Not only does it promote minimalism, but it also encourages more communication among family members. And that's always a good thing – even when you're annoyed with them sometimes!