As Toronto's premier modern custom home builders team, we are backed by 15 years experience in designing architecturally stunning modern homes of the highest quality and craftsmanship. We understand each project is unique and will carefully refine each and every detail to create the home of your dreams.
Our integrated team approach to the design and construction of your home is efficient, superbly managed and cost effective. We begin with a thorough consultation to understand your vision so that we can make it a reality. Heiden's modern custom home builders Toronto team provides fully  managed services that include:
Architectural Planning
Design
Permitting
Construction
Modern building requires a specialized knowledge base, experience, and particular mindset. We focus on utilizing cutting edge details, targeting clean lines and creative spacious considerations to build incredibly unique and innovative state-of-the-art homes. Our projects have received numerous accolades and praise from hundreds of satisfied clients. We take pride in being a service orientated design-build organization and have built our foundation on immaculate customer service and a quality trade force.
Our mission is Quality, Creativity, Reliability and Meeting Deadlines. From the conceptual design to the final finishing touch, we commit to making the process as rewarding and seamless as possible.
Innovative Sustainable Solutions
Heidan Construction is a leader in green, sustainable design and building practices.  We embrace new technology and can provide our clients with a variety of green choices for their modern custom built homes. From incorporating natural light throughout the home to offering assistance in selecting energy efficient appliances, our green building strategies provide our clients with sustainable choices that they can be proud are built into their dream home.
Our sustainable design options include:
Solar Hot Water Tanks
Geothermal Heating
Smart Home Technology
Green Roofs
Spray Foam Insulation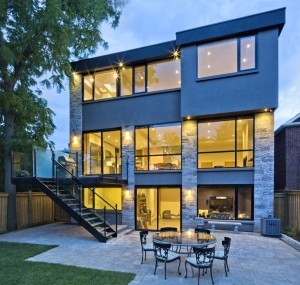 When you choose the Heidan's modern custom home builders Toronto team, you can rest assured that our knowledge and professional experience in the design and construction of modern custom homes is second to none. Our fully disclosed and transparent billing process offers complete trust so you know exactly what you are paying for with no unexpected surprises.
Design excellence and quality craftsmanship are at the heart of every project we do. Make certain that your new home is exactly what you have dreamed of and join our rapidly growing list of satisfied modern custom home clients.
Contact us today for more information on building custom modern homes.