Creating a rear addition on your home is an intelligent way to add value while increasing your overall living space and improving your families enjoyment of life. Whether it is an extra bedroom, an en-suite apartment or an expanded kitchen or living room area, there are many options to achieve the new space you desire.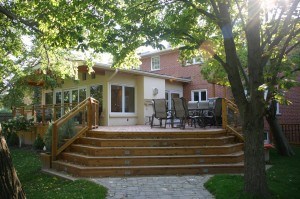 With housing costs soaring within the GTA, it is becoming a more economical solution to add an addition to your current home versus having to move. A major remodeling project requires a team of expert professionals to successfully execute and with our nearly twenty years of experience, Heidan Construction is the perfect choice for the job.
 Where to Begin
Our qualified rear additions Toronto team will begin with a consultation to understand your needs and offer our recommendations. We ensure that we design an option that is suitable for your budget, matches your personal style and will increase the overall value of your home. Our full-service solution includes:
 Customized Design Plans
Securing Necessary Permitting
Construction and Cleanup
 Our Commitment to You
We are passionate about helping you realize the renovation project of your dreams. Improving your families quality of life and building an addition you can enjoy for years to come is a commitment we take seriously. Our team always has your best interest in mind and our hundreds of previous satisfied customers have built our reputation as a leading remodeling contractor within the Toronto region. The Heidan promise includes:
 Quality Craftsmanship
Design Excellence
Superior Client Service
Budget Adherence
Quality Materials
Highly Skilled Professionals
If you are ready to explore home expansion options, connect with our team to set up a personalized, no obligation consultation. We can review your ideas, provide valuable suggestions and answer any questions or concerns you may have. Let our experience and knowledge help you improve upon the functionality of your home and let you stay in the neighborhood you have grown to love. Start imagining all the possibilities within your reach!