At Heidan Construction, we understand that building a new home is a major undertaking that requires dedicated commitment. It takes the right team of experienced, driven professionals to successfully complete the project and that right team is Heidan.
We use a design and build approach to deliver a cost effective yet state-of-the-art design and construction of your new home. Our objective is to make your project a seamless and rewarding experience and we will be your trusted advisor from start to finish, clarifying any questions or concerns you may have along the way.
 The Heidan Process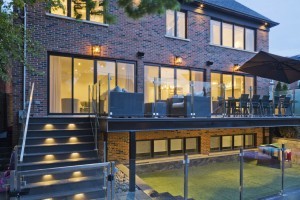 From an empty plot of land to the stunning custom home of your dreams, we can turn your vision into reality. Our experience spans over all styles of home design from Traditional, Contemporary, Modern and Transitional. We pride ourselves on using materials of the highest quality while integrating sustainable and green energy choices into our solutions.
 When You Choose Heidan for Your Toronto Custom Home Design Build Project, You Can Expect:
Industry Expertise
With nearly twenty years of industry experience, our design build process offers a competitive advantage with our team of highly skilled professionals that can design and build to your unique standards.
Efficient Processes
Our integrated approach and efficient processes ensure your project is completed quickly and that you can enjoy living in your new home sooner.
Cohesive Teamwork
Our finely tuned team works under a unified vision and goal to complete your project while ensuring the highest quality of craftsmanship.
Complete Solutions
Because we handle the entire scope from concept to design to construction of your home, our team's sole focus is on creating the solution that is best for you.
Complete Collaboration
We value your input, ideas, and feedback. You will always be included in every phase of the project and we will clearly communicate each and every detail so that your expectations are exceeded.
If you are ready to start exploring your vision of your custom dream home, contact our team to set up a no obligation consultation. Discover how Heidan Construction can build your idea into a reality.