Do you love your current home but wish you had the extra space for dining with family and friends? A dining room addition can be the perfect solution to increase your living space and improve upon the functionality of your home. Not only does adding a new room increase your square footage but it can also considerably enhance the value of your home. Cost effective and with minimal disruption, a room addition should be considered by anyone that feels they have outgrown their space whether it's due to an increase in family size or lifestyle changes.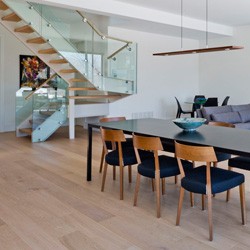 Heidan Construction specializes in remodeling and can create the perfect dining room addition that blends with the current look and structure of your home. Our highly skilled team offers a full-service solution from selecting the best area to build, creating the design, securing any necessary city permits and completing the construction. With a deep focus on client satisfaction and superior craftsmanship, you can rest assured you are in expert hands.
What to Expect:
Creating a room addition is a major undertaking that involves building a new structure and seamlessly integrating it with the rest of your home for a natural finished look. For a dining room, the process generally involves building out, which means adding an extension at ground level. Done correctly, the final look is cohesive and flattering.
A Few Considerations:
 A building out project will require a new foundation to be poured.
Consider loss of the yard or property space.
You may require a zoning variance.
Does your home have the capacity to handle the additional electrical load for heating, cooling and lighting the added space?
The Heidan Commitment
We are industry professionals dedicated to providing superior home remodeling services. Our dining room addition Toronto team will leave no detail to chance. By clearly communicating with you throughout the entire project, setting a realistic budget and building schedule, we ensure a seamless and rewarding process as your home is transformed. Our commitment to quality and craftsmanship will leave you with a beautifully designed room addition that flows with the rest of your home and will be enjoyed for many years to come.
 Contact us today to get more information about dining room additions.