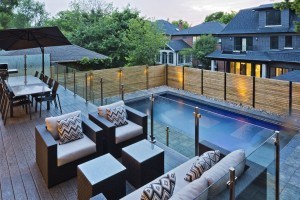 So you've got the party started with Part 1 of this series already. Remember that your whole goal is to create an unforgettable experience for your guests from start to finish.
Now it's time to introduce the main acts and headliners to close out the show:
Covered dining patio
Nothing beats dining out in the open with the sunlight all around you and the breeze in your hair. It's even more appetizing when you bring fine dining outdoors. Set out a full-length banquet table and chairs on the patio, ready to host dinner parties. And with a roof over top, you'll get the intimacy for dinners and deep conversations to stretch long into the night. Make sure the tables and chairs are of weather-resistant materials like teak, wicker, or cast iron. As for the upholstery fabrics, here's your chance to start the colour accent scheme you want in the backyard.
Outdoor kitchen and bar
Well, if you're going to have a fancy meal out on the patio, why not prepare the meal outside, too? And we're not talking about just a BBQ grill here. Go all out and put in a full kitchen with a gas-powered stove and grill. Bonus points for a pizza oven, too! Hook up plumbing to the outdoor kitchen so that you can have a working sink. Heck, might as well throw in a mini-fridge to hold fresh ingredients as you're cooking.
For food preparation, install a durable countertop. Build in extra storage in the base cabinets to hold utensils and dishes. Right next to it all should be a bar counter complete with a wine cooler, icemaker, and glasses.
The best part about having a full outdoor kitchen and bar? You can keep playing host to your guests without having to run back inside to check on the food all the time.
Keep the party going
After dinner, it's great to be able to step away from the table and chat somewhere else over drinks. This is where a gazebo or pavilion would come in handy. Your guests can then continue enjoying the night air at a new hangout spot. Light up the area with some lantern ambience or strung lights. You can also have a sunken firepit patio nearby for those who want to stay warm. And for those with happy feet, an audio system and projector screen at the gazebo/pavilion will get a dance party pumping far into the night.
These rear additions allow you to throw an epic party. But don't forget they're also for you. They'll encourage you to make more excuses to relax there on your down times. You can do a lot more in life with frequent breaks.
But let's go back to your guests as they slowly call it a night with weary but contented smiles on their faces. Who can forget a party like that? You'll stay on top of their minds for a long time. And when opportunities come knocking, it'll be your door they come to first.